What if you don't have a Domino?
Some ideas and tips regarding alternative joining techniques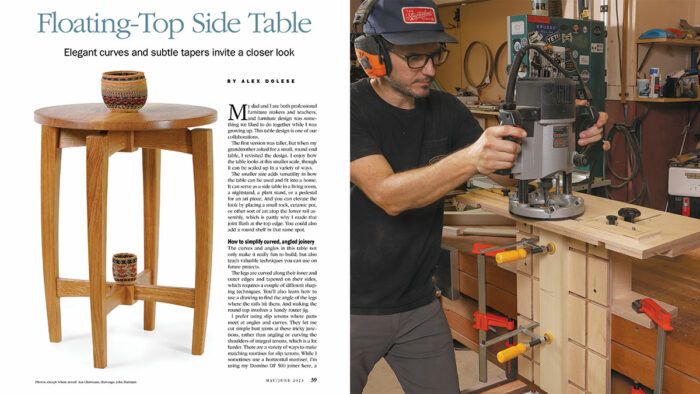 The floating-top side table was one of the most beautiful and functional pieces you have shown recently and one that I would have tried to duplicate almost immediately. The author readily admitted that the average woodworker probably will never own a Domino joiner, but then proceeded to build the easy way by using it. Some ideas and tips regarding alternative joining techniques ("the variety of ways to make matching mortises for slip tenons") would have been nice because changing the design to make mortise-and-tenon joints easy would just not have the same visual appeal. It's a beautiful table and I hope to build one someday. Maybe that could be addressed in a future article.
—SUSAN GILLILAND, Corsicana, Texas
Editor replies: Your note touches on an important challenge we face on just about every project article we publish. What happens when an author uses a tool or machine that a typical reader may not have? One option is to ask the author if they have another way to go about the task. A second option is to show the author's method, but then reference some other options. On this article we got stuck in the middle. In the project mentioned, the author often used a horizontal mortiser to cut the joinery, but when asked for an alternative, chose to use a Festool Domino instead. While that was a more widely available option, to your point, it is still not a tool commonly found in most shops.
The challenge when building this particular project lies in cutting mortise-and-tenon joinery on curved parts. Using slip tenons is a great solution to the problem, one the Domino or horizontal mortiser handles well. The good news, and what we failed to mention, is that neither are absolutely necessary for making slip tenons. An effective, affordable option is to use a handheld plunge router in combination with a shopmade stand that secures the parts and guides the router. A recent article by Philip Morley (FWW #301) offers one such alternative. A second article by Michael Fortune (#197), no stranger to working with curved parts, offers his solution as well. Both can be found in our online archives or at finewoodworking.com/305.
| | |
| --- | --- |
| | Think about what matters most and your build will be more efficient and fun |
| | While it's true that woodworking is often a solitary pursuit, there is an important potential for connection to others in the work we make. |
| | Mike Pekovich answers the question; what will woodworking look like 50 years from now? |