How to sharpen odd shaped tools
Sandpaper, dowels, and wood scraps solve unique sharpening challenges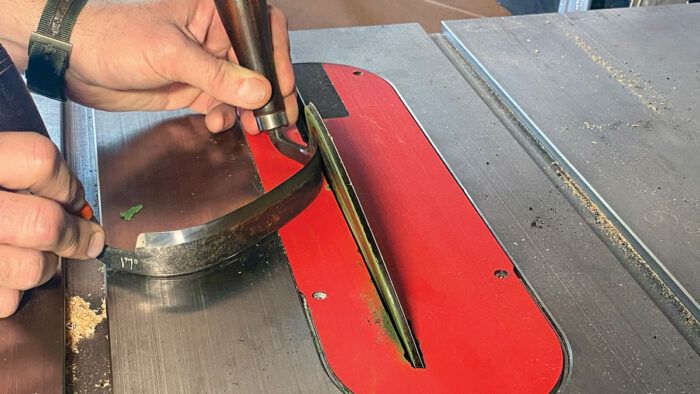 Synopsis: From the L-shape of the router plane blade to the curved cutting surfaces of the scorp and travisher, tools with not-so-straight blades can present a challenge to those seeking a wicked-sharp edge. But you don't need expensive gear or weeks of practice to sharpen these tools. You just need some sharpening stones, dowels, scrapwood, sandpaper, and this collection of techniques from Chris Schwarz.
---
Creating a wicked edge on a straight chisel or plane blade is something a woodworker can learn in less than an hour. But many despair when it comes to sharpening curved or oddshaped tools. It seems like you need lots of practice or expensive gear.
The truth is you just need sharpening stones, some dowels, scrap wood, sandpaper, and a slightly different mindset for your sharpening process.
When working with odd-shaped tools, it is always best to touch up their edges frequently, a practice common among carvers. When I finish carving a seat with my travisher, I always touch up its edge before putting it away. After a decade of this practice I have never had to grind the bevel.
Make sense of abrasives
Comparing different abrasives can be difficult. The United States and Europe have different ways of grading sandpaper. And one manufacturer's 1,000-grit stone might not be the same as another's. One simple and reliable way to compare abrasives is to look up their particle size in microns. One micron is one-millionth of a meter. When you compare microns to microns, you get an idea how fine or coarse an abrasive is. For example, 80-grit sandpaper (in the U.S.) uses particles that are 192 microns across; 220-grit paper is 66 microns across. A typical 1,000-grit sharpening stone has particles that are 14–16 microns. And honing compound is 1 micron. The micron size of any sharpening medium is available online from manufacturers.
---
Sharpening kit for oddball blades
Along with your sharpening stones, a few items such as dowels wrapped in sandpaper, cylindrical sharpening stones, and honing compound used in creative ways will help you sharpen blades that aren't straight and flat.
---
The trick is to know which grit to buy
For initial edge shaping, most people use a soft Arkansas stone or a 1,000-grit waterstone. In the U.S., that equates to sandpaper that's about 400- to 700-grit.
For polishing, a translucent Arkansas or 5,000-grit waterstone has a particle size of 3 to 6 microns. In the U.S., that's 4,000- to 8,000-grit micromesh sandpaper. For additional polish, you can use sandpaper with a 2-micron size particle—or 12,000-grit micromesh sandpaper.
For some tools, I'll rub honing compound directly on a dowel. Most honing compounds claim to have a 1-micron particle size, so they are ideal for the final polish.
Move the burr on router planes
Many beginners struggle with sharpening the L-shaped blade of the router plane, particularly working the bevel without rounding it over or creating a skewed edge. The solution is to reverse your sharpening process.
With most tools you first sharpen the bevel with coarse and then fine grits. Then you remove the burr on the flat face with your finest polishing medium. On router plane blades, I reverse the procedure. I first work the flat face with coarse and then fine grits. It's simple work to rub the flat face on your stone. Then I remove the burr by swiping the bevel across my finest stone once.
I use this same procedure on other tools such as block planes with skewed irons (the skew has to be perfect, or the tool won't function) and swan-neck chisels. It's also a handy trick to know when you get into tools that have a simple curve.
The simple curve of the travisher
Simple curves bend only in one dimension. Compound curves curve in two dimensions, the way a turner's fingernail spindle gouge does. Sharpening simple curves is easy. Begin by stoning the flat face, just like with the router plane. Rock the flat side of the blade along the stone and move up the grits.
To remove the burr on the bevel side of the tool, you need to learn a new trick. For years I made slipstones from old, broken sharpening stones, which are easy to shape with a stationary belt or disc sander. Then I started using sticky-back sandpaper adhered to dowels. I mostly use 1-1 ⁄ 4-in.- diameter dowels, but small dowels come in handy for tools with tight curves. You can use fancy diamond film (Lee Valley Tools sells a set designed for sharpening woodworking tools) or you can use sandpaper from the hardware store. A swipe or two with the sanding dowel removes the burr and continues to polish the bevel.
—Christopher Schwarz is a furniture maker and writer in Covington, Ky.
Photos: Anissa Kapsales.
For more photos and information, click on the "view PDF" button below:
| | |
| --- | --- |
| | Bob Van Dyke demonstrates a cool tool that helps him get curved blades sharp without much fuss. |
| | Here's a compilation of 13 hand tools that might seem difficult to sharpen at first, and the articles that will help you bring them back to sharp and true without any headaches. |
| | Watch a hand tool aficionado who is always looking for new ways to be a better sharpener. |
View PDF